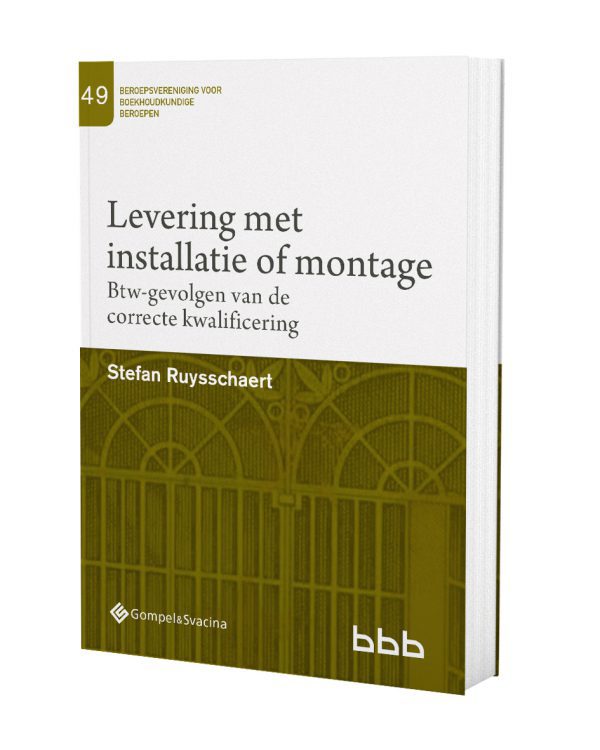 49-Levering met installatie of montage
€29,90
| | |
| --- | --- |
| | |
| ISBN | 978 94 6371 359 7 |
| Aantal pagina's | 116 |
| Editie | nieuwe uitgave |
| Bindwijze | softcover |
| Uitvoering | zwart-wit |
| Reeks | Beroepsvereniging voor Boekhoudkundige Beroepen (BBB), nr. 49 |
Description
Inhoudsopgave
Inleiding
Preview
Description
De achtergrond van de aparte regeling voor 'leveringen met installatie of montage' schuilt in het voorkomen van niet-heffing over de installatiecomponent wanneer geïmporteerde goederen worden geïnstalleerd in de EU. De relevantie van het onderscheid tussen een levering, een dienst en een 'levering met installatie of montage' zit in de plaats waar het belastbare feit plaatsvindt. Indien de plaats van de prestatie gelijk is, kan het onderscheid tussen 'levering met installatie of montage' en een dienst bovendien gevolgen hebben voor het tarief. Het onderscheid is in het bijzonder van belang bij werk in onroerende staat en de regeling van de verlegging van de heffing (B2B) of de toepassing van een verlaagd btw-tarief (B2C).
De aparte regeling inzake 'leveringen met installatie of montage' voorkomt administratieve verplichtingen indien er onderdelen vanuit verschillende lidstaten worden vervoerd ten behoeve van een levering met installatie of montage in een andere lidstaat.
De analyse om tot een juiste kwalificering te komen kan worden verricht volgens een logisch stappenplan, dat in dit boek wordt uitgelegd.
Stefan Ruysschaert is adviseur bij de FOD Financiën. Hij doceert btw aan de faculteit Economische Wetenschappen van de Universiteit Gent en is gastdocent aan de Fiscale Hogeschool (Odisee).
Reeks Beroepsvereniging voor Boekhoudkundige Beroepen (BBB) – ISBN: 9789463713597
Inhoudsopgave
Klik hier om de inhoudsopgave te bekijken.
Inleiding
Klik hier om de inleiding bij het boek te lezen.
Preview