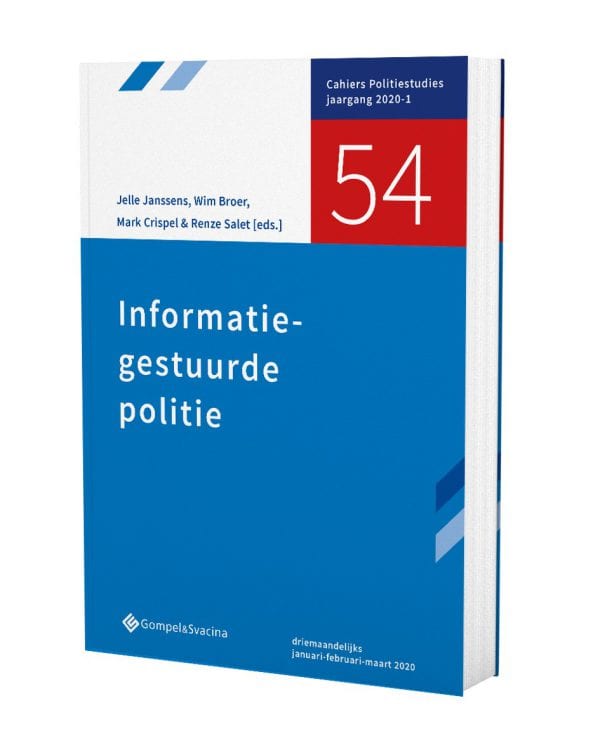 Jelle Janssens, Wim Broer, Mark Crispel & Renze Salet (Red.)
54-Informatiegestuurde politie
€39,00
| | |
| --- | --- |
| | |
| ISBN | 978 94 6371 196 8 |
| Aantal pagina's | 195 |
| Editie | nieuwe uitgave |
| Bindwijze | softcover |
| Uitvoering | zwart-wit |
| Reeks | Cahiers Politiestudies nr. 54 |
Description
Inhoudsopgave
Extra informatie
Preview
Description
In het streven het politiewerk gerichter, effectiever en efficiënter te maken door een degelijke analyse van beschikbare informatie, wordt het ideaal van een 'informatiegestuurde politie' al enkele decennia nagestreefd in vele politieorganisaties.
Het omzetten van dit ideaal naar de praktijk gaat echter niet zonder slag of stoot. De Parlementaire Onderzoekscommissie Terroristische Aanslagen in België toont aan dat de informatiepositie van de Belgische geïntegreerde politie niet optimaal is. In Nederland werd anderzijds het 'Criminaliteits Anticipatie Systeem' (CAS) landelijk geïmplementeerd. Geavanceerde plannings- en voorspellingsmethoden helpen te voorspellen welke incidenten waar zullen plaatsvinden.
De technologische omgeving waarin de politie functioneert, is grondig gewijzigd. De mogelijkheden om grote hoeveelheden 'big data' op te slaan en te analyseren zijn enorm toegenomen. Deze ontwikkeling werpt de vraag op in hoeverre het lukt om de politie om te vormen tot een hoogwaardige informatie- en kennisorganisatie.
Welke beperkingen en voorwaarden doen zich daarbij voor? Hoe krijgen noties als 'predictive policing' of 'policing of risks' in de praktijk vorm? Wat zijn de morele en normatieve aspecten en vragen die deze ontwikkelingen bij de politie oproepen?
De Cahiers Politiestudies verschijnen trimestrieel. Zij zijn onderworpen aan een internationale double blind peer review en worden samengesteld door de gasteditoren, de hoofdredacteur en de editorial board, i.s.m. de redactie.
GPRC-uitgave (Guaranteed Peer Reviewed Content)
ISBN: 9789463711968
Inhoudsopgave
Klik hier om de inhoudsopgave te bekijken.
Extra informatie
Klik hier om de inleiding bij het boek te lezen.
Preview