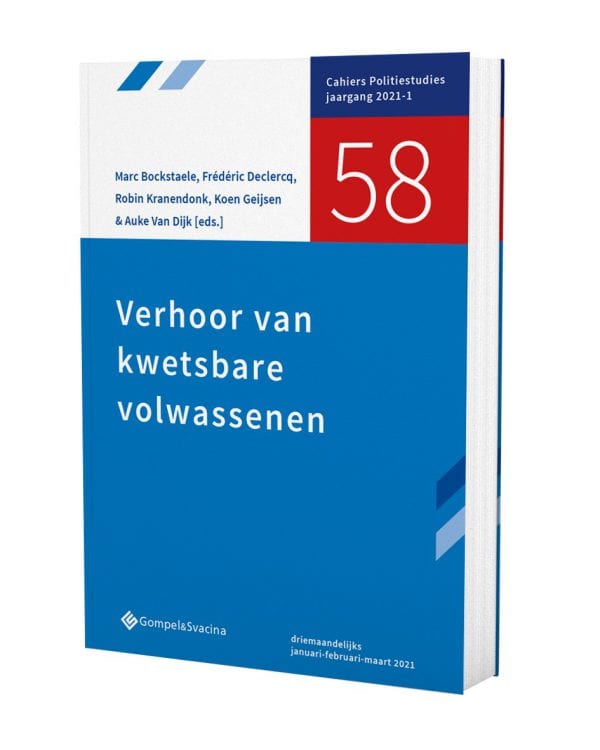 Marc Bockstaele, Frédéric Declercq, Robin Kranendonk, Koen Geijsen & Auke Van Dijk (Red.)
58-Verhoor van kwetsbare volwassenen
€39,00
| | |
| --- | --- |
| | |
| ISBN | 978 94 6371 278 1 |
| Aantal pagina's | 314 |
| Editie | nieuwe uitgave |
| Bindwijze | softcover |
| Uitvoering | zwart-wit |
| Reeks | Cahiers Politiestudies nr. 58 |
Description
Inhoudsopgave
Inleiding
Preview
Description
Het verhoor van kwetsbare volwassenen, als gevolg van een tijdelijke of permanente psychische of psychiatrische stoornis, valt sedert de 'Salduzwetten' onder hetzelfde regime als het verhoor van minderjarigen. De ondervrager moet de kwetsbaarheid met gezond verstand zelf inschatten, eventueel na overleg met de behandelend magistraat en 'advies' van de aanwezige advocaat. Doorgaans zullen personen met een zware psychische stoornis, zoals schizofrenie en paranoia, wel tijdig herkend worden. Dit geldt ook voor een 'zichtbare' verstandelijke beperking, zoals het syndroom van Down.
Het probleem zit echter in de detectie van subtielere, verborgen vormen van zware psychische stoornissen tijdens de interventie. Onder meer schizofrenen, paranoïci en personen met een (licht) verstandelijke beperking trachten hun pathologie soms te verbergen. Uit gebrekkig ziekte-inzicht, uit schaamte of uit vrees om gek of dom te worden bevonden. Omgekeerd zijn er ook verdachten die een psychische stoornis veinzen (bv. geheugenverlies, hallucinaties of wanen).
Welke hulpmiddelen staan de justitiële actoren, die ter zake leken zijn, ter beschikking om een inschatting te maken? En welke aspecten hebben daarbij extra aandacht nodig?
Dit Cahier bespreekt niet alleen een aantal varianten van psychische stoornissen en beperkingen, maar gaat in op de politionele aanpak van kwetsbare volwassenen, meer bepaald op de verhoortechniek.
Dit Cahier 58  is samengesteld onder redactie van Marc Bockstaele, Frédéric Declercq, Robin Kranendonk, Koen Geijsen en Auke Van Dijk.
De Cahiers Politiestudies verschijnen trimestrieel. Zij zijn onderworpen aan een internationale double blind peer review en worden samengesteld door de gasteditoren, de hoofdredacteur en de editorial board, i.s.m. de redactie.
GPRC-uitgave (Guaranteed Peer Reviewed Content)
ISBN: 9789463712781
Inhoudsopgave
Klik hier om de inhoudsopgave te bekijken.
Inleiding
Klik hier om de inleiding bij het boek te lezen.
Preview