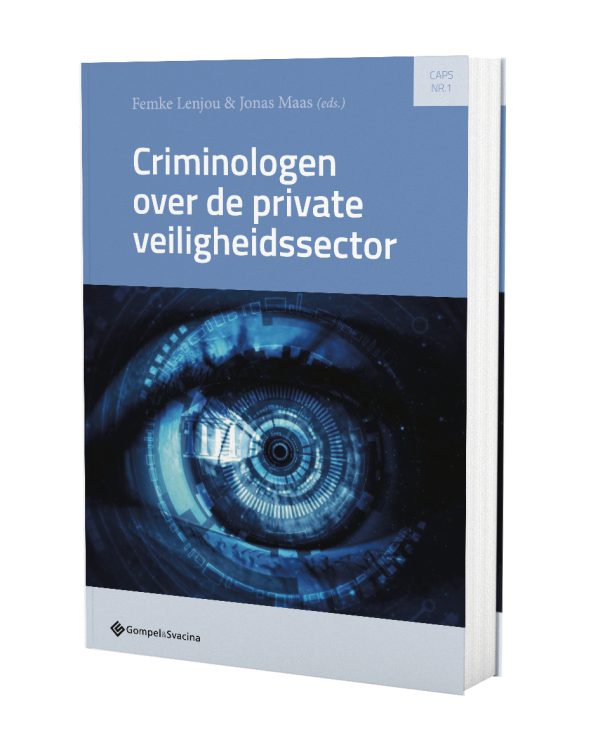 Femke Lenjou & Jonas Maas (eds.)
Criminologen over de private veiligheidssector
€38,50
| | |
| --- | --- |
| ISBN | 978 94 6371 479 2 |
| Aantal pagina's | 273 |
| Editie | nieuwe uitgave |
| Bindwijze | softcover |
| Uitvoering | zwart-wit |
| Reeks | CAPS, nr. 1 |
Description
Inhoudsopgave
Inleiding
Preview
Description
In de sector van de private veiligheid is een uiteenlopend gezelschap van criminologen aan de slag. Na hun studies hebben ze elk hun eigen unieke pad bewandeld en hun eigen bijdrage geleverd aan de private invulling van de bescherming van onze samenleving. Daarbij hebben ze waardevolle ervaringen en expertise verzameld.
Dit boek opent de deuren naar dit intrigerende werkveld. Ruim dertig professionals vertellen over hun beslissing om Criminologische Wetenschappen te studeren, over hun betrokkenheid en eerste kennismaking met de private veiligheidssector, en over hun visies op de toekomst van deze branche.
Zo belicht dit boek niet alleen de complexiteit van het dagelijkse werk, maar verschaft het eveneens inzicht in de verschillende carrièremogelijkheden binnen deze sector. Of je nu student, pas afgestudeerd of gewoonweg nieuwsgierig bent, dit boek biedt de perfecte introductie tot de sector van private veiligheid.
Deze uitgave is de eerste in de nieuwe boekenreeks van de Criminologists Association for Private Security (CAPS).
Femke Lenjou en Jonas Maas zijn beiden criminoloog en zijn als doctoraatsonderzoeker verbonden aan het Institute for International Research on Criminal Policy (IRCP) aan de Faculteit Recht en Criminologie van de Universiteit Gent. Ze zijn beiden bestuurslid van Criminologists Association for Private Security (CAPS).
Met bijdragen van: Elke Bellekens, Rani Berlo, Emiel Blanckaert, Lien Calus, Marc Cools, Wilfried Covent, Bart De Bie, David De Bock, Stefanie De Greef, Joeri Deisz, Mathias Desmet, Dorien Favaits, Harald Haelterman, Mathilde Jacob, Pieter Leloup, Femke Lenjou, Jonas Maas, Olivier Maes, Wim Maes, Laurent Mollet, David Mosselmans, Roel Renders, Jan Roelandt, Bavo Segers, Filip Smeets, Bernd Stinkens, Stijn Van Daele, Floor Vandeghinste, Patrick Van den Broeck, Pieter Van Neyghem, Amandine Vanscheeuwijck, Karolien Verbeiren, Gerwinde Vynckier en Philip Willekens
ISBN: 9789463714792
Inhoudsopgave
Klik hier om de inhoudsopgave te bekijken.
Inleiding
Klik hier om de inleiding bij het boek te lezen.
Preview