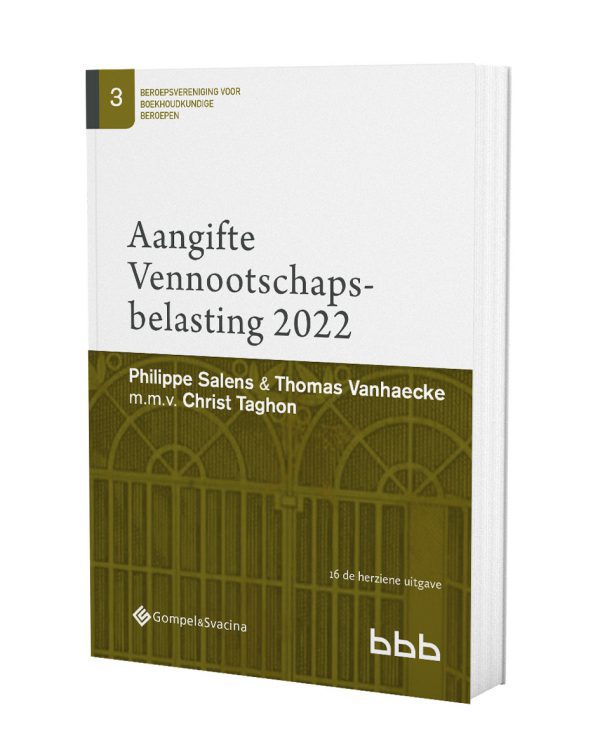 Philippe Salens & Thomas Vanhaecke m.m.v. Christ Taghon
E-BOOK Aangifte Vennootschapsbelasting 2022
€137,50
| | |
| --- | --- |
| Type | e-book |
| Aantal pagina's | 1409 |
| Editie | 16de, herziene uitgave |
| Uitvoering | zwart-wit |
| Reeks | Beroepsvereniging voor Boekhoudkundige Beroepen (BBB), nr. 3 |
| SKU | EBOOK-3801 |
Description
Inhoudsopgave
Description
Dit product is een digitaal boek in het formaat ePDF met watermerkbeveiliging. Uw e-mailadres wordt op de pagina's als watermerk opgenomen.
Aangeschafte digitale boeken kunnen door hun aard niet geannuleerd of geretourneerd worden. Het is niet mogelijk om onze digitale boeken te printen. 
---
Deze publicatie bespreekt de vennootschapsbelasting aan de hand van het aangifteformulier. De keuze om deze materie technisch te benaderen (de zogenaamde bewerkingen) werd gemaakt vanwege de vaststelling dat men in de meeste gevallen in eerste instantie in aanraking komt met de vennootschapsbelasting via dit formulier.
Eerst wordt het toepassingsgebied onderzocht. Vervolgens worden de verschillende vakken van de aangifte grondig uitgediept. Hierbij wordt de vereiste aandacht besteed aan de interactie met boekhoudrecht en -techniek. Waar nodig wordt tevens kort ingegaan op de andere belastingen (voornamelijk btw en registratierechten) en het vennootschapsrecht. In de tekst wordt op verschillende plaatsen verwezen naar aanbevolen literatuur voor verdere uitdieping of studie van bepaalde problemen.
Door deze unieke aanpak is het boek veel meer dan een traditionele belastingalmanak – die doorgaans slechts beperkt wordt geconsulteerd – en kan dit werk het hele jaar door als handboek worden gebruikt.
Deze uitgave is onmisbaar voor elke beoefenaar van een boekhoudkundig beroep. Met zijn talrijke verwijzingen naar fiscale rechtspraak vormt het ook een zeer waardevol naslagwerk voor fiscale juristen.
Deze uitgave is geactualiseerd tot en met 1 mei 2022.
Philippe Salens is senior counselor bij EY Tax Consultants en programmadirecteur van het postgraduaat Vermogens- en successieplanning (Brugge Business School).
Thomas Vanhaecke is accountant-belastingconsulent. Hij werkte onder meer bij Cnockaert & Salens, EY en kantoor Van Reybrouck. Momenteel is hij partner bij Vanhaecke, Devriendt & Rosseel. Verder is hij docent bij Brugge Business School, lid van de redactieraad van de Beroepsvereniging voor Boekhoudkundige Beroepen en spreker bij diverse beroepsverenigingen.
Christ Taghon is director bij EY Tax Consultants.
Inhoudsopgave
Klik hier om de inhoudsopgave te bekijken.