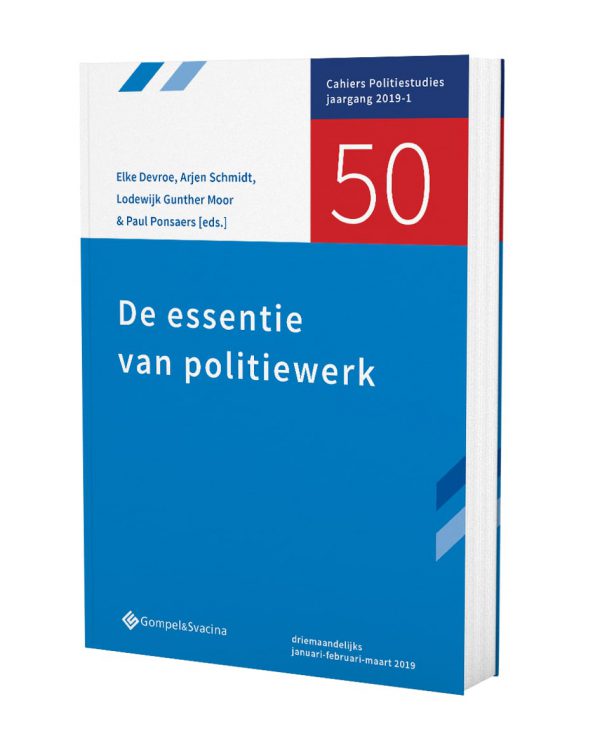 Elke Devroe, Arjen Schmidt, Lodewijk Gunther Moor & Paul Ponsaers (Red.)
E-BOOK De essentie van politiewerk
€29,25
| | |
| --- | --- |
| Type | e-book |
| Aantal pagina\'s | 254 |
| Editie | nieuwe uitgave |
| Uitvoering | zwart-wit |
| Reeks | Cahiers Politiestudies nr. 50 |
| SKU | EBOOK-1104 |
Description
Inhoudsopgave
Extra informatie
Description
Dit product is een digitaal boek in het formaat ePDF met watermerkbeveiliging. Uw e-mailadres wordt op de pagina's als watermerk opgenomen.
Aangeschafte digitale boeken kunnen door hun aard niet geannuleerd of geretourneerd worden. Het is niet mogelijk om onze digitale boeken te printen. 
De Cahiers Politiestudies namen een start in 2006. Intussen zijn er niet minder dan vijftig nummers van de persen gerold. Ter gelegenheid van dit feestnummer grijpt de editorial board terug naar de verschillende thema's die aan bod kwamen tijdens die vele jaargangen en vraagt zich af wat de wezenlijke veranderingen zijn geweest sinds het verschijnen van de themanummers in het verleden. Daarbij wordt een beroep gedaan op de verschillende auteurs die de afgelopen themanummers hebben geschraagd, met nadrukkelijk de centrale vraag in het achterhoofd: "In welke mate hebben deze evoluties nu al dan niet een impact gehad op de essentie van het politiewerk?" James Q. Wilson (1968) sprak over handling the situation; Michael Banton (1964) maakte het onderscheid tussen law officers en peace officers; Egon Bittner (1970) sprak over politiewerk als het stoppen van something-that-ought-not-to-be-happening-and-about-which-someone-had-better-done-something-now. Wat zijn thans functies van de politie? Welke achtergronden zijn van belang? Wat zijn huidige praktijken? Wat zijn mogelijke rolmodellen? In dit Cahier zullen auteurs hun visie te kennen geven en hun licht laten schijnen op de essentie van politiewerk.
De Cahiers Politiestudies verschijnen trimestrieel. Zij zijn onderworpen aan een internationale double blind peer review en worden samengesteld door de gasteditoren, de hoofdredacteur en de editorial board, i.s.m. de redactie.
Inhoudsopgave
Klik hier om het pdf-bestand te bekijken.
Extra informatie
Klik hier om de inleiding bij het boek te lezen.