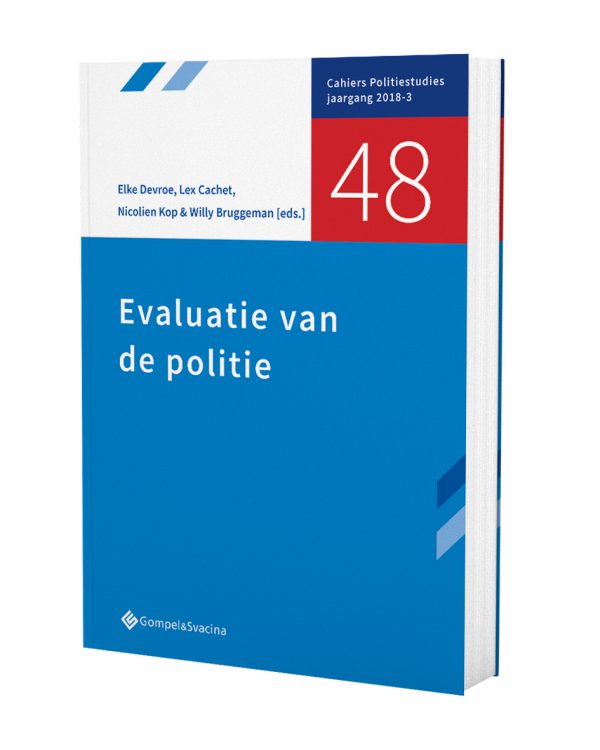 Elke Devroe, Lex Cachet, Nicolien Kop & Willy Bruggeman (Red.)
E-BOOK Evaluatie van de politie
€29,25
| | |
| --- | --- |
| Type | e-book |
| Aantal pagina's | 256 |
| Editie | nieuwe uitgave |
| Uitvoering | zwart-wit |
| Reeks | Cahiers Politiestudies nr. 48 |
| SKU | EBOOK-0336 |
Description
Inhoudsopgave
Extra informatie
Description
Dit product is een digitaal boek in het formaat ePDF met watermerkbeveiliging. Uw e-mailadres wordt op de pagina's als watermerk opgenomen.
Aangeschafte digitale boeken kunnen door hun aard niet geannuleerd of geretourneerd worden. Het is niet mogelijk om onze digitale boeken te printen. 
In Belgie werd de politie in 1998 hervormd (Wet op de Geintegreerde Politie). Ruim tien jaar later verscheen het Panopticon libri-rapport 'Tien jaar politiehervorming' (2010) (Bruggeman, Devroe & Easton) met een kritische academische reflectie over de verschillende onderdelen van de hervorming. Kon ze geslaagd genoemd worden of bleven bepaalde aspecten onderbelicht? Deze publicatie toonde aan dat werk gemaakt werd van de institutioneel-organisatorische aspecten, maar dat er wel nog werk op de plank lag voor aspecten als maatschappelijke inbedding, de bredere contacten met het maatschappelijk middenveld, de academische wereld en de burger. Ook Nederland kende een ingrijpende hervorming (2012). Politie werd geherstructureerd tot één korps, met één stuurman en slechts tien eenheden. Enkele wetenschappelijke onderzoeken toonden aan dat de positie van de wijkagent werd uitgehold en men moet blijven waken over belangrijke COP-principes als maatschappelijke inbedding, accountability en empowerment.
In dit Cahier wordt zowel de Belgische als de Nederlandse politiehervorming onder de loep genomen vanuit diverse uitgangspunten. Het Cahier beperkt zich tot de publieke politiefunctie en gaat niet in op het bredere policing. Verschillende thema's komen hierbij aan bod, zoals de COP-werking, de noodzaak aan objectieve evaluatie-instrumenten, professionalisering-professionaliteit van de politie en een visie voor de politie van de toekomst.
De Cahiers Politiestudies verschijnen trimestrieel. Zij zijn onderworpen aan een internationale double blind peer review en worden samengesteld door de gasteditoren, de hoofdredacteur en de editorial board, i.s.m. de redactie.
GPRC-uitgave (Guaranteed Peer Reviewed Content)
Inhoudsopgave
Klik hier om het pdf-bestand te bekijken.
Extra informatie
Klik hier om de inleiding bij het boek te lezen.