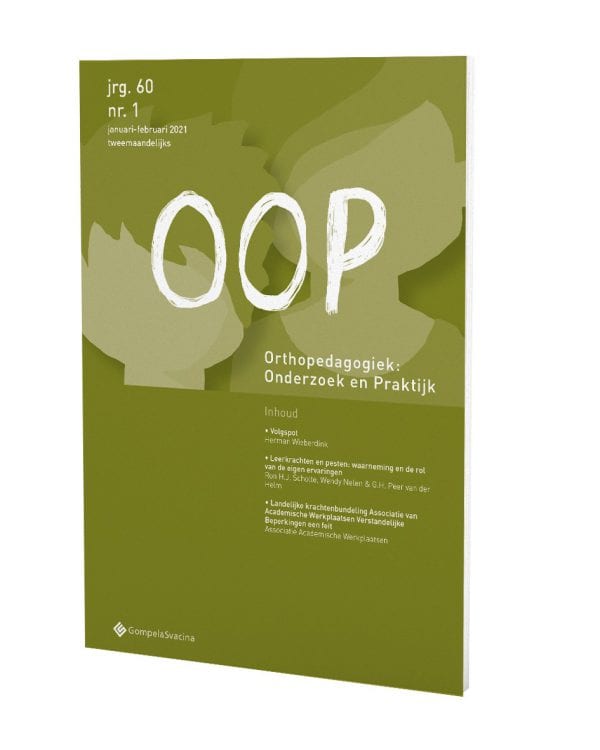 E-BOOK OOP 60 (1)
€17,00
| | |
| --- | --- |
| Type | e-book |
| Aantal pagina's | 44 |
| Editie | nieuwe uitgave |
| Uitvoering | full colour |
| Reeks | OOP jrg. 60 nr. 1 |
| SKU | EBOOK-OOP60(1) |
Description
Dit product is een digitaal boek in het formaat ePDF met watermerkbeveiliging. Uw e-mailadres wordt op de pagina's als watermerk opgenomen.
Aangeschafte digitale boeken kunnen door hun aard niet geannuleerd of geretourneerd worden. Het is niet mogelijk om onze digitale boeken te printen. 
Inhoud van dit nummer
Volgspot: Cognitieve zelfredzaamheid
Herman Wieberdink
Leerkrachten en pesten: waarneming en de rol van de eigen ervaringen
Ron H.J. Scholte, Wendy Nelen & G.H. Peer van der Helm
Ondanks een geleidelijke afname gedurende de afgelopen jaren is pesten op school nog steeds een omvangrijk probleem. Pesten is een groepsproces, waarbij ook de leerkrachten een belangrijke rol spelen. Door de manier waarop ze reageren op pesten en door hun opvattingen en normen over pesten, beïnvloeden de leerkrachten het pesten in de klas. Het blijkt echter dat leerkrachten vaak niet in staat zijn om pesten goed waar te nemen. Theoretisch gezien zouden de eigen ervaringen van leerkrachten met pesten van invloed kunnen zijn op hoe goed ze pesten waarnemen. Opvallend genoeg bestaat er echter erg weinig onderzoek dat zich specifiek richt op de relatie tussen eigen pestervaringen en de waarneming van pesten door leerkrachten. Uit de enkele studies die er zijn, komt het volgende beeld naar voren. Leerkrachten die zelf als leerling gepest werden, lijken pesten realistischer in te schatten en hebben meer empathie voor de slachtoffers, wat invloed zou kunnen hebben op het waarnemingsproces. Leerkrachten die als leerkracht gepest worden, zien meer pesten op school dan leerkrachten die niet gepest worden. Er is geen eenduidig beeld wat betreft de waarneming van pesten door leerkrachten die zelf als leerling, of als leerkracht, gepest hebben. De algemene conclusie is dat empirisch onderzoek naar dit belangrijke thema grotendeels ontbreekt. Dit is opvallend en verontrustend, als we ons realiseren hoe belangrijk leerkrachten zijn in het terugdringen van pesten in hun klas. Er is duidelijk meer onderzoek nodig naar hoe leerkrachten pesten waarnemen en welke factoren die waarneming kunnen beïnvloeden.
Landelijke krachtenbundeling Associatie van Academische Werkplaatsen Verstandelijke Beperkingen een feit
Associatie Academische Werkplaatsen