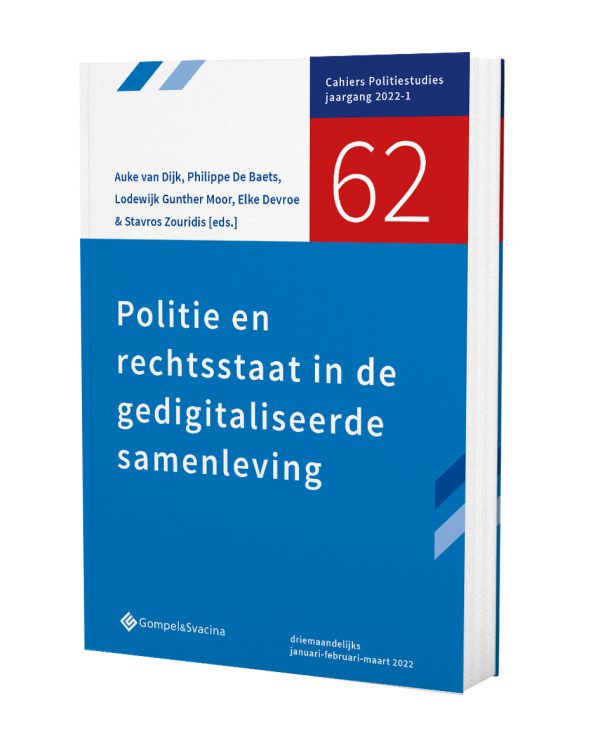 Auke van Dijk, Philippe De Baets, Lodewijk Gunther Moor, Elke Devroe & Stavros Zouridis (Red.)
E-BOOK Politie en rechtsstaat in de gedigitaliseerde samenleving
€29,25
| | |
| --- | --- |
| Type | e-book |
| Aantal pagina's | 236 |
| Editie | nieuwe uitgave |
| Uitvoering | zwart-wit |
| Reeks | Cahiers Politiestudies nr. 62 |
| SKU | EBOOK-3504 |
Description
Inhoudsopgave
Inleiding
Description
Dit product is een digitaal boek in het formaat ePDF met watermerkbeveiliging. Uw e-mailadres wordt op de pagina's als watermerk opgenomen.
Aangeschafte digitale boeken kunnen door hun aard niet geannuleerd of geretourneerd worden. Het is niet mogelijk om onze digitale boeken te printen. 
---
Informatie- en communicatietechnologie is in hoge mate grenzeloos en relativeert het belang van territorialiteit. Het handelingsvermogen van de staat, in het bijzonder waar het gaat om de handhaving van de rechtsorde, komt daardoor onder druk te staan.
De criminaliteit – waaronder cybercriminaliteit – als gevolg van deze grensoverschrijdende technologische ontwikkelingen krijgt doorgaans voldoende aandacht. Veel minder aandacht gaat echter naar ondermijning van rechtsstatelijke waarborgen. Zo ontbreekt vaak toetsing door het openbaar ministerie, komen zaken niet altijd meer voor de (Europese) rechter, worden opsporingsbevoegdheden ingezet voor andere doelen, of is er sprake van een vervaging tussen de politie- en de inlichtingenfunctie.
Wat betekent dit alles voor de ontwikkeling van de politiefunctie? Hoe verhouden handhavingsopportuniteiten en efficiëntiewinsten voor de bijzondere inspectiediensten zich met de bescherming van de persoonlijke levenssfeer?
Dit Cahier 62 is samengesteld onder redactie van Auke van Dijk, Philippe De Baets, Lodewijk Gunther Moor, Elke Devroe en Stavros Zouridis.
De Cahiers Politiestudies verschijnen trimestrieel. Zij zijn onderworpen aan een internationale double blind peer review en worden samengesteld door de gasteditoren, de hoofdredacteur en de editorial board, i.s.m. de kernredactie.
Inhoudsopgave
Klik hier om de inhoudsopgave te bekijken.
Inleiding
Klik hier om de inleiding bij het boek te lezen.