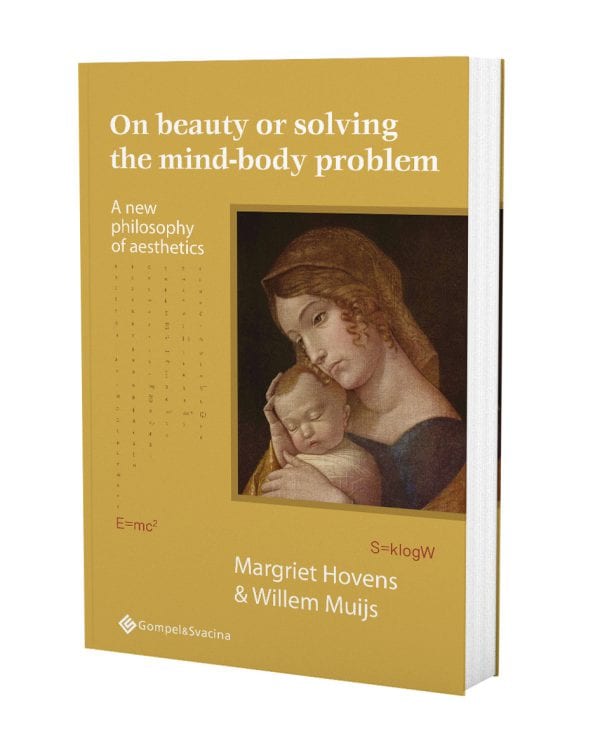 Margriet Hovens & Willem Muijs
On Beauty or solving the mind-body problem. A new philosophy of aesthetics
€23,00
| | |
| --- | --- |
| ISBN | 978 94 6371 246 0 |
| Pages | 106 |
| Edition | new |
| Binding method | softcover |
| Print | black and white |
Description
Contents
Introduction
Preview
Description
This book about Beauty and its deep philosophical meaning serves an ambitious goal. The two authors point to a possibility to transcend the philosophical duality between body and mind. The concept of Beauty is part of the Platonic trinity that also includes the concepts of the Good and the Truth. These are the three attibutes of the Spirit. The Spirit or divine Soul is a binary unity that contains the material and immaterial character of being. The question is a single source of the Spirit is thinkable, leads to a metaphysical speculation which also is the end of the book.
The analysis of the concept of Beauty is echoed in two other concepts: the Good and the Truth. But on the level of natural physics, this analysis treats the structure of time-space and the deep structure of matter. Quantum physics, the behaviour of light and the laws of gravity and entropy find their place in this edifice which we call material reality. This knowledge of physics also contains the building blocks of a theory of mind. Mind and matter are inseparably built into each other. Physics and metaphysics imply each other on the level of a living, organic and inorganic reality.
This book is written for everybody who looks for answers to the fundamental question of what life is: who and what are we as human beings; what could be the meaning of life and what is the structure of our reality? The essence of these writings is the question into the value of beauty, the value of human culture and the question how we are part of the wonderful order of nature. Philosophical and scientific jargon is explained in parts where it was inevitable to use.
Margriet Hovens was educated and trained in art academies in Maastricht and Breda. She studied history of art and philosophical aesthetics at the Radboud University in Nijmegen. She is a sculptor in the classical tradition and teaches philosophy of the arts and cultures at the department of product design of the Artez Academy of the Arts in Arnhem in the Netherlands.
Willem Muijs was educated at the school of arts in Tilburg. For a short period he worked as a teacher in the arts. He was a successful artist and original thinker and worked in Arnhem and Nijmegen. Besides his craftsmanlike and highly authentic approach to the art of drawing, he professed a multimedia artistic career. In his art he comments on societal problems and aims at artistic renewal.
ISBN: 9789463712460
Contents
Click here to view the table of contents.
Introduction
Click here to read the introduction to this book.
Preview