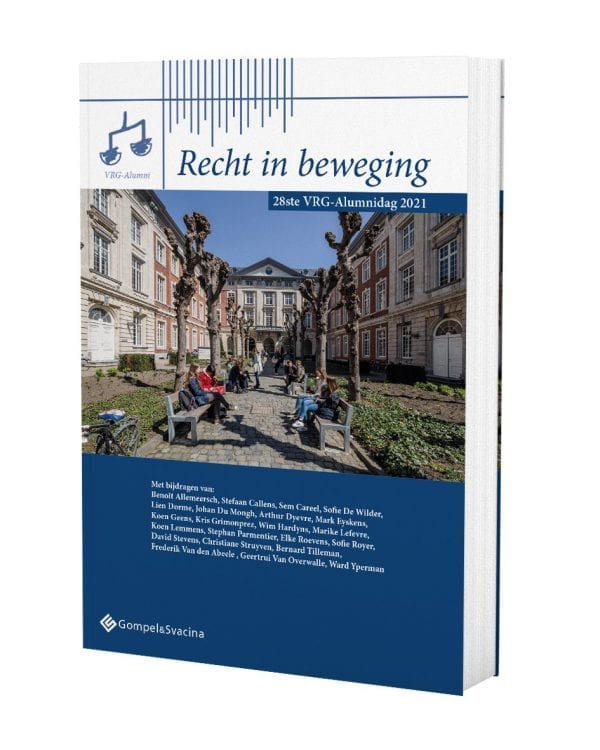 Recht in beweging. 28ste VRG-Alumnidag 2021
€65,00
| | |
| --- | --- |
| ISBN | 978 94 6371 297 2 |
| Aantal pagina's | 324 |
| Editie | nieuwe uitgave |
| Bindwijze | softcover |
| Uitvoering | zwart-wit |
Description
Inhoudsopgave
Woord vooraf
Preview
Description
Recht in beweging is het uithangbord van de jaarlijkse alumnidag van het Vlaamse Rechtsgenootschap (VRG). Nu de 28ste op rij. Op de alumnidag staan de recente ontwikkelingen op het stuk van recht steevast op de agenda. De alumni en in groeiende mate ook juristen die aan andere universiteiten gevormd werden, kunnen er kiezen tussen niet minder dan 19 voordrachten. Dit boek bevat de teksten van de lezingen die op 12 maart 2021, door niet minder dan 450 juristen online beluisterd en besproken werden. Meteen een bundel van onschatbare waarde. Dit boek is ook een blijk van waardering en trouw van de alumni aan hun Leuvense faculteit en Alma Mater.
Met bijdragen van:
Benoît Allemeersch, Stefaan Callens, Sem Careel, Sofie De Wilder, Lien Dorme, Johan Du Mongh, Arthur Dyevre, Mark Eyskens, Koen Geens, Kris Grimonprez, Wim Hardyns, Marike Lefevre, Koen Lemmens, Stephan Parmentier, Elke Roevens, Sofie Royer, David Stevens, Christiane Struyven, Bernard Tilleman, Frederik Van den Abeele, Geertrui Van Overwalle en Ward Yperman.
IT & recht. Obstakels in de strijd tegen cybercrime (overwonnen)
Sofie Royer, Sem Careel en Ward Yperman
Kooprecht. Actualia Belgisch kooprecht: overzicht hoogste rechtscolleges (2017-2020)
Bernard Tilleman en Frederik Van den Abeele
Medisch recht. EHealth en AI in de zorg
Stefaan Callens en Sofie De Wilder
Mensenrechten. Populaire cultuur onder de loep: Europese mensenrechten als instrumenten voor culturele wijzigingen of voor cultuurbehoud?
Koen Lemmens en Marike Lefevre
Kunst. Vrouwen in hedendaagse kunst 1990-2020
Christiane Struyven
Onderwijs & burgerschap. Democratie wordt elke generatie opnieuw geboren (of niet): pilootproject Case4EU voor EU-leren op school
Kris Grimonprez
Staatsstructuur. Enkele beschouwingen over het faciliteren van de federale regeringsvorming
Koen Geens
Advocatuur. De derde Advocatenbarometer 2020 in vogelvlucht
Lien Dorme, Elke Roevens, Wim Hardyns en Stephan Parmentier
Familiaal vermogensrecht. Vennootschapsaandelen in het wettelijk huwelijksvermogensstelsel
Johan Du Mongh
Gerechtelijk recht. De sanctieregeling in het civiele proces
Benoît Allemeersch
Medisch recht & intellectuele eigendom. Heisa rond COVID-octrooien
Geertrui Van Overwalle
Privacy & recht. De Gegevensbeschermingsautoriteit en recente ontwikkelingen gegevensbeschermingsrecht
David Stevens
Technologie & recht. Learning With the Machine: Legal Research With Natural Language Processing Methods
Arthur Dyevre
Maatschappelijke filosofie. Welke lessen leren van corona?
Mark Eyskens
ISBN: 9789463712972
Inhoudsopgave
Klik hier om de inhoudsopgave te bekijken.
Woord vooraf
Klik hier om het woord vooraf te lezen.
Preview