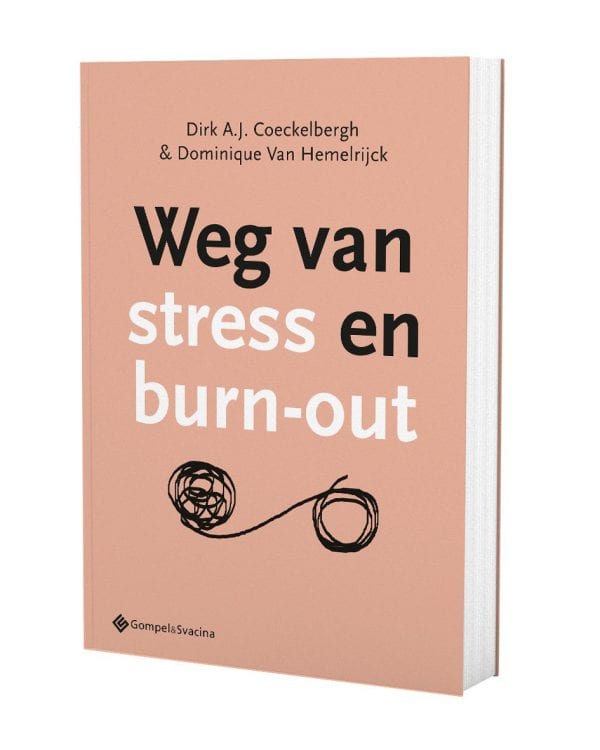 Dirk A.J. Coeckelbergh & Dominique Van Hemelrijck
Weg van stress en burn-out
€69,50
| | |
| --- | --- |
| ISBN | 978 94 6371 157 9 |
| Aantal pagina's | 612 |
| Editie | nieuwe uitgave |
| Bindwijze | softcover |
| Uitvoering | zwart-wit |
Description
Inhoudsopgave
Inleiding
Preview
Description
Dit theorie- en praktijkboek geeft duidelijke en praktische uitleg over stress en burn-out en reikt oplossingen aan om hiermee in de praktijk om te gaan. Het bevat ook een bloemlezing van verrassende pareltjes van uitzonderlijke, nieuwe invalshoeken rond stress: Hoe kun je zelf met succes impact hebben op je stresssituatie? Welke prioriteiten leg je het best bij stress? Hoe relatief is stress op het werk? Hoe zwaar is de invloed van privéstress? Wat is de band tussen stress en liefde? Hoe hoog is de stress bij en na een echtscheiding of na de dood van een geliefde partner of een kind? Hoeveel stress hebben gevangengezette misdadigers? Wat is de band tussen stress en mensenrechten en geweld? Wat is het gevolg van stress en burn-out in een bedrijf of organisatie? Wat is de band tussen stress en de essentie van waar geluk? In welke sectoren vinden we welke vormen van stress? Welke objectieve probleemcijfers kunnen we naast de stressoren leggen?
Dit boek is bedoeld voor bedrijfsleiders, HR-verantwoordelijken, stressconsulenten en burn-outcoaches, en voor wie bedreigd wordt door stress of burn-out.
Dirk A.J. Coeckelbergh studeerde Rechten, Politiek-Sociale wetenschappen, Innovatieve marketing, Cultuurmanagement, Vredesmanagement, en volgde een opleiding tot stress- en burn-outcoach. Hij is reeds meer dan dertig jaar gespecialiseerd in de kruising geld & ethiek, economie & non-profit, harde & zachte waarden. Hij is auteur van meer dan dertig boeken.
Dominique Van Hemelrijck studeerde Moderne Talen Vertaler-Tolk en Marketing & Management. Ze is al meer dan dertig jaar actief in HR, training, vorming, leiderschap en management in midden- en kleinbedrijf, multinationals, ngo's en overheidsbedrijven.
ISBN: 9789463711579
Inhoudsopgave
Klik hier om de inhoudsopgave te bekijken.
Inleiding
Klik hier om de inleiding bij het boek te lezen.
Preview